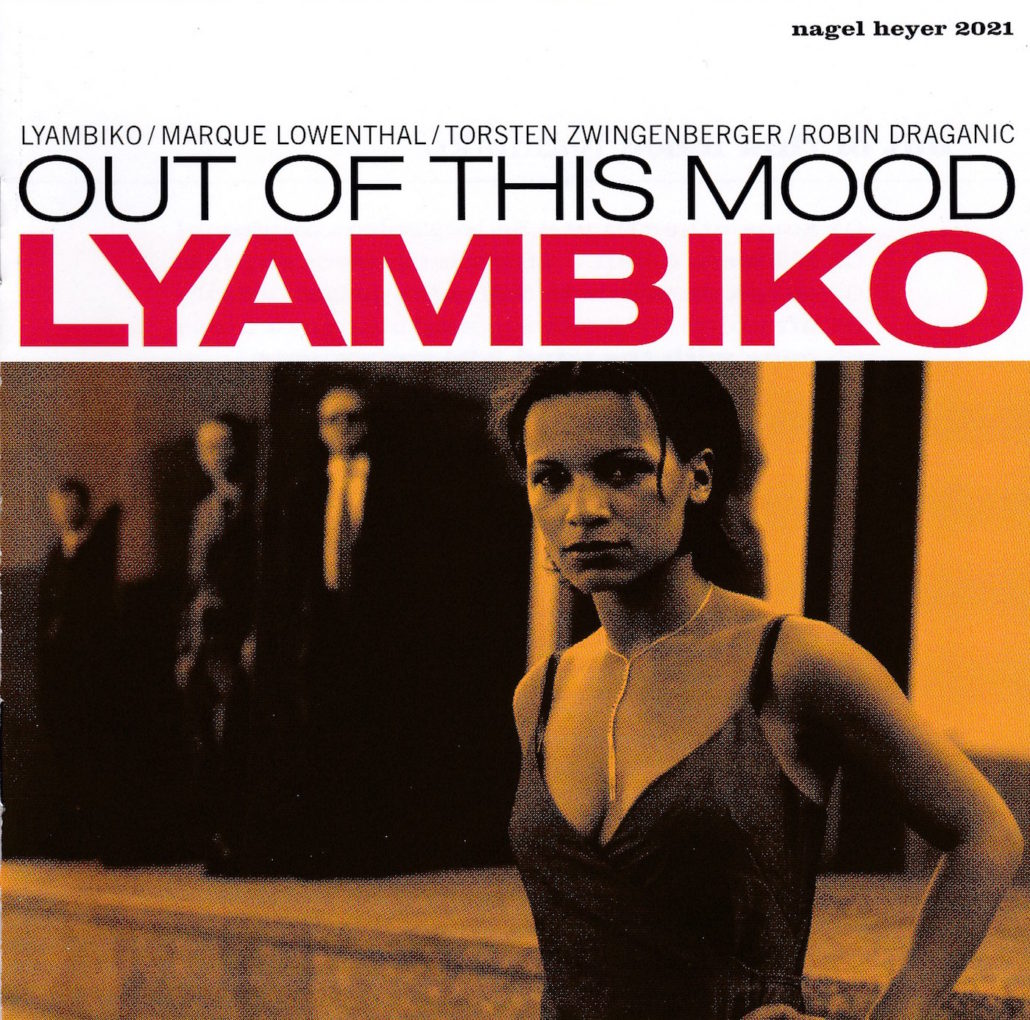 2002 – Nagel-Heyer records
Album bestellen oder downloaden
Out Of This Mood
Lyambiko's desire is to share their music and personalities with their listeners. The group arranges popular songs in an individual style. At the same time they preserve the original character of the songs and strive for melodic improvisation, staying true to the compositions intent.
Lyambiko
the singer, is the newcomer in the jazz world. Her smooth, silky voice transports her audience to another dimension, where jazz stood at ist apex of popularity, and singers like Ella Fitzgerald, Sarah Vaughan and Billie Holiday became the highly respected artists of their time. Lyambiko is blessed with an unusual talent for timing and phrasing, her intonation is unbelievably precise and the beauty of her performances is unforgettable. This recording is also a thank you from Lyambiko to her former voice teacher Frederike Brück, who encouraged her to go into jazz. And that was how Lyambiko hooked up with her present bandmates:
Marque Lowenthal
on piano, studied classical piano, composition and arranging at the New England Conservatory in Boston and at Brandeis University. He has been a leader of his own group, which recorded an LP in 1983 titled "The Brix". He has performed with several well-known musicians such as Tony Scott, Ira Sullivan, Ernie Watts, Tony Lakatos, Bireli Lagrene. He worked with the rock band "Embryo" and concerned himself with Brazilian and southern Indian music. Before he moved to Berlin in 1995 he lived in Cairo fort wo years. His swing feeling is indescribably intense every time he gets on the bandstand.
Torsten Zwingenberger
started playing drums at the age of 15. At the beginning he concentrated on New Orleans jazz and developed step by step all kinds of swinging and groovy jazz styles. Torsten became first known to a bigger public by accompanying his brother Axel Zwingenberger, the famous boogie woogie pianist. With his own jazz bands he began to produce records himself, documenting his work and development. On countless concerts and tours he played with legends like Buddy Tate, Harry "Sweets" Edison, Joe Pass, Jay Mc Shann, and many more. Torsten performed all over Europe and took part in many TV and radio broadcasts. With his brother he toured all over Europe as well as Northern, West and Central Africa and the Middle East. In 1992 he performed in the "Highlights in Jazz" series in New York City with the trumpet players Jon Faddis and Doc Cheatham.
Robin Draganic
Comes from a musical family and grew up in Croatia and Canada. He founded his first jazz band in Montreal in 1985 and was playing electric bass at this time. When Robin went to China he discovered the acoustic double bass. He went to Berlin and studied classical bass playing and intensified his sound. In the meantime, he is in demand as a most experienced accompanist and known as the leader of jam sessions in the Berlin scene. Since 1991 he has played often with Torsten, and Marque joined them in 1995. Robin has also performed theatre and dance productions and he also likes to play klezmer music, blues and Brazilian, but jazz – swinging, warm and bluesy – will be his favourite forever.
Merken
Merken
Merken
Merken
Merken
Merken
Merken
https://www.lyambiko.com/wp-content/uploads/2017/09/IMG_20170830_0008-e1504478266632.jpg
792
800
LYAMBIKO
https://www.lyambiko.com/wp-content/uploads/2019/09/logo-300x138.png
LYAMBIKO
2017-09-01 18:29:31
2017-09-05 17:55:37
Out Of This Mood