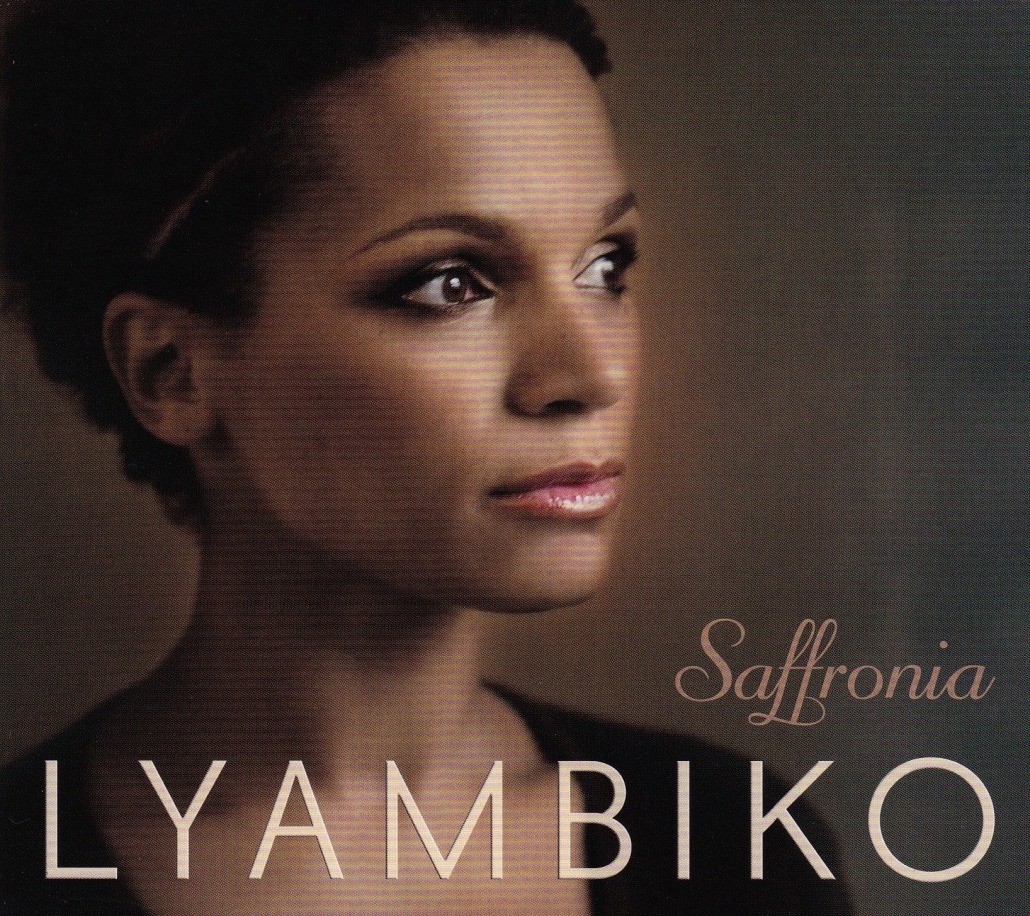 2009 – Sony Music
Album bestellen oder downloaden
Saffronia – Special Edition

After five albums Lyambiko is read to pay tribute to the Lady who inspired her to pursue a career as a singer. She spreads Dr. Nina Simone's love message in I Loves You Porgy and Black Is The Clour Of My True Love's Hair and two songs flavoured with adventurous tempo changes: Don't Smoke In Bed and Ne Me Quitte Pas. In Four Women, a portrait of four black women with gradations in skin color, she focuses o Simone's political message. My Baby Just Cares For Me gets a new and original treatment, as irresistable as I Sing Just To Know That I'm Alive, crossfaded with the Tanzanian folk song Mawe Mawe, honouring Simone's – and Lyambiko's – African roots.
Let's love the ground whereon Lyambiko stands and sings with a voice that changes from raw to sweet as honey, enjoy her spellbinding musical performances accompanied by an excellent trio. Nuff said! Here comes Saffronia, a thrilling homage to the Dr. Nina Simone legacy.
Roger Nupie, President
International Dr. Nina Simone Fan Club
Nach ihrem letzten Erfolgsalbum "Inner Sense" widmet sich die Sängerin Lyambiko nun auf der neuen CD "Saffronia" einem ihrer großen Vorbilder: der legendären Jazz-Ikone Nina Simone. Lyambiko, die Thüringerin mit tansanischen Wurzeln, wählte für das Album elf Songs aus, darunter berühmte Simone-Ohrwürmer wie "My Baby Just Cares For Me", "Don't Let Me Be Misunderstood", "Don't Smoke In Bed" oder "I Put A Spell On You". Mit ihrer Stimme, die alle Facetten von samtweich bis kraftvoll umfasst, erzählt Lyambiko die Geschichte dieser einzigartigen Frau, die Lyambiko nach eigener Aussage zum Jazz geführt hat und ihrer Musik, die weit über die Grenzen des Jazz hinausgeht und mit Elementen aus Blues, Pop, Folk und afrikanischer Musik spielt. "Lyambiko ist besser denn je. Prächtig auch "Black Is The Colour", das selten so bewegend zu hören war.", schrieb STEREOPLAY und für AUDIO ist "Saffronia" einfach "Great Black Music".
Lyambiko vocals
Marque Lowenthal piano
Robin Draganic bass
Heinrich Koebberling drums
Martin Auer trumpet (12 & 13)
Merken
Merken
Merken
Merken
Merken
Merken
Merken
Merken
Merken
Merken
https://www.lyambiko.com/wp-content/uploads/2017/09/IMG_20170830_0012-e1504476887679.jpg
1455
1636
LYAMBIKO
https://www.lyambiko.com/wp-content/uploads/2019/09/logo-300x138.png
LYAMBIKO
2017-09-05 18:39:42
2017-09-05 21:18:21
Saffronia (Special Edition)